Congratulations, you're pregnant. What are you going to do now?
Go to the Bahamas!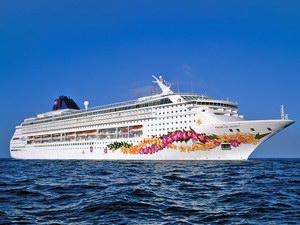 This weekend we're headed down to Miami for a short cruise to the Bahamas aboard Norwegian Cruise Line's Sky. It was a "last minute" thing, given the low rates (about $180/pp for 3 days). One of the advantages of living in Florida: easy access to cheap, last minute deals in the cruising capitol of the world.
We had actually planned on going to Japan this June, if the IVF cycle hadn't worked out. My thought was that it might be good to get away: out of sight, out of mind.
Of course, we did have success.
So, I (happily) bagged that trip.
That wasn't a big deal. I just cancelled the award tickets and hotel reservations and put a couple hundred thousand frequent flier miles / hotel points back into my account. Note: this is one of the few—but valuable perks—of traveling often and widely on business.
Travel Geeks
I don't think I've mentioned this before, but we're avid travelers. How avid? Well, for example, we've been to Europe on vacation about 15 times in our nearly 12 years of marriage. We have a goal to visit together all 7 continents, at least 100 countries, and all 50 states in our lifetime. (Note: it doesn't count if only one of us goes or we've both been separately)
Travel—whether the good, bad, or indifferent—has brought us tremendous joy. Indeed, sometimes the misadventures (like the "apartment from hell" we rented in Venice, Italy) have made the best memories.
We've also always dreamed of taking our kid / kids to all 7 continents before they finish high school. Admittedly, we're travel geeks… but really, how cool would that be?
It's funny: the dreams parents (or want to be parents) have for their offspring.
2 responses so far