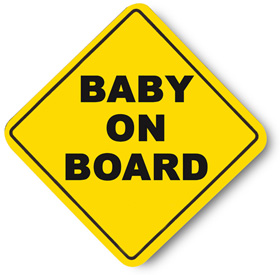 I've noticed a common theme in reading other infertility blogs (written mostly by women) over the past weeks and months: a keen awareness of, and emotional reaction toward, other women's pregnancies.
Obviously, there are the shared congratulations and excitement when a fellow member of the infertile sisterhood trips the BFP light fantastic.
That's not what I'm talking about…
No, I'm talking about the—often emotional—reaction to pregnancies by seemingly uber-fertile sisters, cousins, friends, co-workers, and acquaintances. Or, more generally, any "bitch with a bun in the oven" shopping at stores like Babies 'r Us, Pottery Barn Kids, or Pea in the Pod.
That's what I'm talking about…
In terms of emotion, I've read reports of everything from depression to jealousy to anger. (Anger: especially in the case of said mother-to-be handing out well-intentioned, but dumb-as-fuck advice). That said, the overarching theme seems to be a poignant sense of "why not me" and the enveloping sadness associated with that emptiness.
A little closer to home…
L and I have never talked about this particular aspect of infertility.
But, it got me to thinking: does she have a similar reaction?
I was now curious. So, I explained my observations to her the other night.
She confirmed a similar set of feelings:
She sort of shrugged. "Yeah. It makes me sad. It's sort of like when I was young and other girls had boyfriends before me. I'm not unhappy about their happiness. I just want my happiness too. I think: when will it be my turn?"
My perspective as a man…
I can't say I share a similar response—or really any response—to other pregnancies or childbirths. I try to look interested and act pleased. Heck, sometimes, I genuinely am happy for them or really do think "it's the cutest baby ever!"
But, I mostly don't give a shit.
Maybe it's because I'm less exposed to this sort of thing as a man? No, I don't think so. For example, at my office, I recently had three co-workers go on paternity leave for their birth of their children. We also have at least six more "blessed events" slated through the remainder of the summer. I've looked at ultrasound pictures (mostly alien-like). I've seen the baby pictures (mostly cute). I've not touched any bellies—because I think that's just creepy. But, suffice it to say, I am fully aware.
Yet, I really just don't give a shit.
Are most men (in infertile couples) like this: blissfully unconcerned?
Is this a fundamental difference between women and men?
Am I crazy?
I have no data points. So, I'm left wondering.