Following yesterday's ultrasound, we met briefly with Dr. Goodman, L's reproductive endocrinologist at the Reproductive Medicine Group. She seemed genuinely thrilled about our success… complete with an ear-to-ear grin and hugs for us both! Up to this point, she'd been mostly "down to business" (which I appreciated), but I have to say that L and I have been very favorably impressed by the RMG throughout. They've been both technically competent (obviously) but also demonstrably caring.
In short, we'd highly recommend the Reproductive Medicine Group.
Now returning to regularly scheduled programming…
Yesterday was also graduation day for us. This was (thankfully / mercifully / hopefully) our last trip to the RE office. We're now just a "normal couple" expecting their first kid. So, L will be headed back to her regular OB/GYN practice (after confirmation w/ Dr. G that it was "recommended" by her).
L's first appointment at the OB's office is next Wednesday. I think I'm planning to attend this appointment too. My schedule should allow for it, as I have a short business trip (leaving tomorrow, returning on Tuesday) to a conference.
Here's a gift for the lovely parting contestants.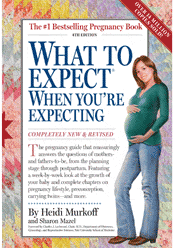 As a graduation gift from the RMG, we were given a copy of "What to Expect When You're Expecting." I'd been tempted to order this on Amazon, but then I opted not to because I'd read a lot of reviews that said (paraphrasing) "this book will scare the shit out of you."
Not exactly something I thought we'd need.

That said, having now read a lot of it, I think it's only scary to the uber-fertiles, who are generally (as we all know) completely and utterly ignorant about matters of conception and pregnancy compared to their IF counterparts. I was surprised by both how much I already knew (good Paul!) and how much we'd already been through (good news!).
Conception: Ha! (ROFL) Check. (After writing a large one.)
Dietary changes / restrictions: check.
Activity restrictions: check.
Symptoms: check, check, check.
First month: check.
Second month: check. (Well, nearly over…)
Knowing that shit can go wrong: check. (All too familiar).
So, "What to Expect When You're Expecting" isn't too scary at all (and an easy read).
No more PIO shots! Ohhh… maybe not!
Finally, we learned yesterday that L could stop the IM PIO shots, if she wished, and move on to Crinone (a Vaginal gel), but when we called the pharmacy we got a crazy price for the product ($405 for a 12 day supply, which we'd probably need to order twice).
Libby's attitude: "Fuck that! I'll stick with the shots."
So, it seems that we'll continue the PIO shots until: 1) we find a lower price for Crinone, 2) we get Crinone covered by my medical insurance (possible as this is for pregnancy, not infertility), 3) our doctor switches the prescription to a lower cost alternative, or 4) we simply make it through the end of week nine (when all progesterone support ends).